Enugu state Police Command Neutralises two Kidnappers, Recover AK-47 Rifle, Ammunition, Other Exhibits
Police Operatives of Enugu State Command has foiled an attempt to kidnap some road users at Ogbeke-Nike, along Ugwogo-Nike/Opi/Nsukka road.
The hoodlums had blocked the road and shot sporadically, before the Operatives, some of whom were on VIPs escort duty, gallantly responded.
Two of the miscreants were neutralized on the spot, while many others escaped into the forest with fatal gunshot wounds.
One (1) AK-47 rifle with two (2) magazines, eighty-two (82) and sixteen (16) rounds of 5.56 mm and 7.62 mm calibres of live ammunition respectively, one (1) cutlass, two (2) mobile phones and other incriminating exhibits were recovered from the hoodlums.

However, one of the Operatives who sustained a gunshot wound in the ensuing gun duel was taken to the hospital and later confirmed dead by doctors in the morning hours of today, 04/09/2023. His remains have been deposited in the mortuary for preservation and autopsy.

Meanwhile, the Commissioner of Police, *CP Kanayo Uzuegbu, psc(+)*, while mourning the unfortunate loss of the Operative, whom he described as gallant even in death, has commended the entire Police personnel, the Neighbourhood Watch Group and Forest Guards involved in the operation for their courage and job well done. He reiterates the firm commitment of the Police to ruthlessly deal with, and rid the State of unrepentant criminals, especially those involved in violent crimes.

The CP, therefore, enjoins citizens of the State to remain security conscious, law-abiding and promptly report criminals and individuals found with bullet wounds to the nearest Police Station. Or call the Command's emergency hotlines on 08032003702, 08075380883, 08086671202 or 08098880172, or send emails to infoenugupolice@gmail.com.
Mayhem in Sagamu, blood-thirsty cultists engage in deadly clashes, residents live in fear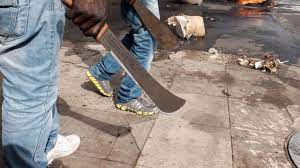 The atmosphere in Sagamu town has been tense lately due to clashes by rival cult groups, causing residents to live in perpetual fear, Bankole Taiwo writes
The incessant cult clashes within Sagamu, the headquarters of Sagamu Local Government Area of Ogun State, with the attendant loss of lives is already becoming a source of worry and frustration to the residents of the town who felt that the government and the security forces have to be more decisive in curtailing this ugly incident
Between January and September, Sagamu has reportedly recorded at least four bloody cult clashes during which about 30 souls perished.
In March, the governor of the state, Dapo Abiodun, had directed the state Commissioner of Police; the Commander, 35 Artillery Brigade; and the Director, Department of State Services, to relocate their operations to the Sagamu area of the state and apprehend those involved in the recent cult activities in the town.
Abiodun had issued the statement through his former Chief Press Secretary, Kunle Somorin, on the heels of a bloody cult clash in the town during when eight lives were reportedly lost in a supremacy battle between the two rival cult groups of Eiye and Aiye confraternities.
Similarly in April, around Agbowa, behind Ewusi Palace, Makun, and Sagamu two precious souls were confirmed dead when these same cult groups of Eiye and Aiye confraternities clashed again.
Eyewitnesses said sounds of gunshots rented the air during the clash between two rival cult groups, forcing the residents to scamper for safety and by the time the dust settled two dead bodies were found.
Two months after, that is in June, there was another confrontation between these blood-thirsty groups around Ijagba when another life was cut down in his prime.
The most recent which occurred less than two weeks ago lasted four days and it was said to have been the most callous and brutal with the number of the dead put at 20 out of which many were said to be innocent and just victims of circumstances police have however said that only eight people died.
Speaking with our Correspondent, the Odofin of Sonyindo, Sagamu, Oba Gisanrin Lasisi confirmed that there had been reported cases of about four cult clashes in Sagamu this year and that the recent one was the most deadly as the cultists operated as if they were engaged in guerrilla warfare.
Oba Gisanrin said "When you heard that these boys have struck somewhere and you are still trying to gather your thoughts, somebody is telling you that there is another killing again somewhere. This last incident was terrible and horrible. All hands must be on deck to forestall a reoccurrence".
Pressed to give clue to what he thought could have been responsible for the rising wave of cultism and cult clashes in the town, Oba Gisanrin said though it has been discovered that many of these cultists are strangers from States like Osun and Oyo, the root of this growing evil stands on three tripods of growing broken homes, increase in drugs and substance abuse as well as the prevalence of the yahoo boys who are into cybercrimes.
The royal father said "Many of these cultists are products of broken homes; many of them are not getting the desired support from their single mothers or fathers and they left home to stay with their friends who are cultists. Those who habour them will be responsible for their upkeep, giving them food, buying them clothes after which they will introduce them to cultism and that settles it.''
For the yahoo boys, almost all of them are members of cult groups. The reason is that they always want one kind of security or the other because whenever they win big from their fraudulent ways, some established ones want to have a bite or a percentage of such money, so to ward off intimidation and harassment like this they will join a cult group that can always be there to defend them.
According to Oba Gisarin, another side to this growing disturbance is the influence of drugs. The amount of drugs in circulation now in Sagamu is huge. '' One thing that is quite clear is that many of these cultists wouldn't have been able to slaughter fowl talk less of stabbing or killing someone if not because of the drug influence. This is another major area the government has to work on to stem this orgy of senseless killings.''
Another resident of the town who pleaded for anonymity said one other vital factor making this problem look intractable is the involvement of the politicians and alleged compromise on the part of the police.
The source said these cultists were armed by the two major parties of the All Progressives Congress and the Peoples Democratic Party during elections and that none of the parties could claim to be saints on this subject.
The source said "This is the reason why when these cultists are arrested; they are back in town after few days because the politicians would have made some moves to get them out of the police custody"
Oba Gisanrin said he was always troubled each time he saw able-bodied men staying in groups and just chatting away early in the morning when others would be making efforts to go to work, adding that the challenge of unemployment must have also significantly been lending helping hands to this problem of cultism.
Meanwhile, there was a twist to the worrisome event last week Thursday, when it was reported that the operatives of the Department of State Services (DSS) in a sting operation; arrested Hon Damilare Bello, representing Sagamu Constituency I at the State House of Assembly alongside six other alleged cultists said to have been involved in the Sagamu bloodbath.
Acting on tip-off, the DSS reportedly barged into the official residence of the lawmaker within the Legislative quarters, Abeokuta around 12am on Thursday and found him to be housing six suspected cultists allegedly said to have been fingered in the Sagamu violence.
The media report alleged that guns and some dangerous weapons were found during the DSS raid on the lawmaker's apartment.
The Peoples Democratic Party has however described the arrest of the lawmaker and a member of the party as nothing but sheer intimidation and harassment from the executive arm of Ogun State government.
The party in a statement by its Publicity Secretary, Akinloye Bankole, said among other things that the arrest of Hon Damilare Bello as well as the hasty allegations that guns were found on him when the security agency was yet to be done with its investigation amounted to giving a dog a bad name in order to hang it.
This is just as Abiodun is also threatening to enact a law that would pronounce the death penalty for cultism offences in the state.
The governor issued this threat last week when he visited the palace of the Akarigbo of Remoland, Oba Babatunde Ajayi, following days of cult-related clashes in Sagamu, which left many dead and others injured.
Abiodun said the decision which also included having a special court to handle cultism-related offences as well as an amnesty programme for cultists was part of the fallout of the security meeting his government convened to chart the way forward and deal decisively with the issue of cultism in the state.
He said "Our primary focus was on establishing a special court, forming a joint operational force comprising various security agencies, and implementing a death penalty for cultism offences.
"In addition to these measures, we also deliberated on the possibility of introducing a period of amnesty. This would allow individuals who wish to surrender their weapons and renounce their affiliation with any cult-related groups and activities the opportunity to do so without fear of prosecution.
"As an administration deeply committed to fostering a peaceful and violence-free society, we are dedicated to providing the Special Court and Joint Anti-Cultism Security Task Force with the necessary logistics and tools to support their operations effectively".
Similarly, the Commissioner of Police, CP Abiodun Alamutu, has also vowed that the state command will never fold its hands and allow free reign of lawlessness saying that anyone caught disturbing the peace of the state would be dealt with decisively.
Alamutu traced the recent Sagamu killings to an attempt by a rival cult gang to share in the money someone who sold a land had given to another group hence the attack and counter-attack leading to the loss of eight lives while nine suspects have been arrested.
The residents however believed that the cult killings in Sagamu would be reduced to barest minimum once there were no forms of interference from any quarters whenever these cultists were caught. They insisted that the overt and covert support these blood-thirsty groups are getting from the politicians is a major challenge to winning the battle against this malady
JUST IN: 13 Zamfara Kidnapped Students Regains Freedom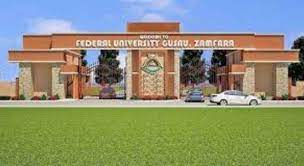 A combined efforts of security operatives under the ongoing operation hadarin daji has led to the rescued of 13 Female Students of Federal University Gusau in Zamfara state and 3 Males that were both kidnapped while they were in a rented apartment.
The rescued students whom majority of them are into their second, third, and fourth year and 3rd years in the University are as follows:
Amamatullahi Asabe Dahiru.
Fiddausi Abdulazeez.
Salamatu Jummai Dahiru.
Mary Monday.
Rukayya Sani Batola.
Maryam Salawuddeen.
Saadatu Aminu Abubakar.
Usaina Abdulrahman.
Aisha Aminu Ujong.
Ketora Bulus.
Jamila Ahmad.
Felicia Sunday.
Jummai Dahiru.
Mariya Abdulrahman Usman.
The rescued students have been reunited with their family members.
JUST IN: Gunmen Abduct Commissioner of Information in Benue State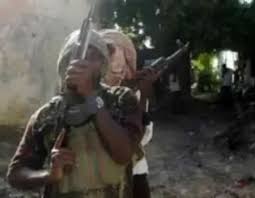 Gunmen in Benue state have kidnapped the Commissioner of Information, Culture and Tourism Hon. Matthew Abo, at his residence in Zaki-Biam, Ukum Local Government Area, (LGA), of the state.
Abo was kidnapped on Sunday night, September 24th, 2023, at about 8pm, as the kidnappers arrived on four motorcycles, stormed into his home and ordered everyone, including the commissioner's wife and children, to lie face down.
It was said that while everyone obeyed their command, they took him away to an unknown destination on one of the motorcycles